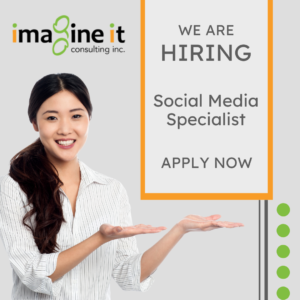 Looking for a job in social media? We're seeking a motivated, creative and organized individual to join our growing team! The primary role of the Social Media Specialist will be to develop and manage the distribution of custom digital content for our clients' various social media platforms.
The new team member will work closely with members of the Imagine It Consulting (IIC) staff to strategize and implement creative marketing ideas.
General ongoing duties will include:
Creating and maintaining a social media calendar
Writing and publishing daily social content
Regularly communicating directly with Clients and IIC Staff
Responding to reader comments and questions
Evaluating social media performance
Creating and interpreting reports to highlight successes and opportunities
Qualifications
Education: Bachelor's Degree preferred
Experience: Minimum 1 – 2 years' experience in social media
Ideal Candidate
The new team member should have a good understanding of the overall social media landscape. It's important for this individual to continually stay up to date with new upgrades/changes to social platforms, viral trends and opportunities related to each client.
We'll provide plenty of opportunity to learn and grow on the job, but the ideal candidate will possess the following skills:
Creative writing
Social media scheduling and publishing
Understanding of basic reporting analytics
Organization and time management
Preferred but not required abilities:
Basic graphic design (i.e., Canva)
Basic video creation and editing