Why Businesses Should Use Social Media
It's no surprise that most consumers turn to the Internet first to shop for products and services. We are living in a time where even many "in-store" purchases are greatly influenced by a company's digital presence. It's more important now than ever that business owners utilize online resources to reach out to their customers and grow their business.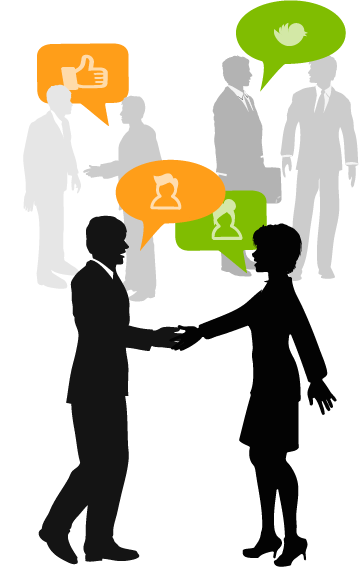 While establishing an online presence may be an accepted necessity these days even for brick and mortar businesses, taking advantage of digital tools that reach beyond your own website can be a huge benefit.. Consider social media the gateway drug into more expansive digital marketing. Social media platforms such as Twitter, Facebook and Pinterest allow businesses to interact with their followers on a personal level. By making the business more approachable, growth and success become possible. What better way to discover your company's strongest attributes than by asking those who follow you?! It serves as a direct line between what you stand for and who you want to reach. Each platform offers unique characteristics that help your business depending on what your main goal is.
If you want to create a think tank with your customers and share ideas, go for Pinterest. If you want to interact directly with your followers individually, reply to their "tweets" on Twitter! But one of the most universal, simple and beneficial platforms for businesses to grow a fan base and communicate with their audience is still Facebook.
"Like" it or not, Facebook is the Holy Grail for consistent interaction, advertising and creating a buzz. Creating a Business Page on Facebook gives business owners the ability to build a following through sharing fun, relevant articles and creating other engaging posts that resonate with your customers.
Convenience
Even without extensive knowledge of marketing, Facebook makes it simple to create an amazing Page and understand how to get the most out of it. Each action taken has a step by step guide to walk you through the process. Facebook Business Pages are also incredibly easy to access. You can monitor your account at home or on your smartphone using their app. If time is a concern, there is also the opportunity to schedule posts in advance for the week, specifying the exact day and time you wish a post to be published.
Insights
A feature of having a Page is being able to use insights and analytics. Each post and action taken with Facebook is measured and tracked. The number of people who see your post, view your Page, and interact with something on your Page is all recorded to help you. This information lets business owners see exactly what works for them and what isn't as effective. The more you learn about the behavior of your visitors the more you can use it to your advantage.
Targeting
One of the biggest benefits with making a Page is the ability to specifically target your audience. The beauty of Facebook is that they know so much about their users! Not only can you search and segment users by age, gender and location but also by their interests and hobbies. If you own a local music shop, you can find people in the area who have 'liked' certain bands or have music listed as their interests. Being able to segment users by their personal preferences narrows down who you want to reach dramatically, giving you a better chance of finding potential customers.
Overall Facebook and social media platforms provide the tools you need to connect your business to the community around you. By becoming an active presence online, you create an approachable brand image and drive buzz around your business, reaching customers who you didn't even know are there. Whether small, brick and mortar or a large corporation, social media can help any business achieve their goals.